Dorset Seafood Restaurants
Dorset has plenty of fine seafood restaurants. Dorset's best seafood restaurants serve locally caught seafood and the Great Dorset Seafood campaign set up by Dorset's Wildlife Trust is promoting the use of locally sourced sustainable caught seafood.
Expect to find a selection of Dorset's finest seafood from rock oysters, pot caught lobster & brown crabs to sea bass, sea bream, lemon sole, haddock and mackerel on the menu. Fresh local mussels and scallops are also readily available.
Set in the heart of Weymouth's bustling harbour overlooking the local fishing boats, Vaughan's is accessable and affordable, a place where anyone is welcome and everyone will feel comfortable.
Vaughan's are passionate about food, flavour and service, simple locally sourced ingredients are prepared with love and passion and turned into truely great dishes.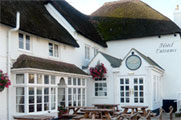 Another in West Dorset is the Bridport Arms Hotel restaurant in West Bay. A lovely hotel set right on the beach on this part of the Jurassic coast. The restaurant is open to everyone & has its own Fish Menu in addition to its normal menu using as much locally sourced produce as possible.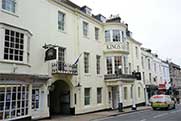 Dorchester's Kings Arms has recently had over 1 million spent on modernising and refurbishing the hotel and restaurant, you can still feel the history that is associated with its 288 year existence.
Their food policy is "Fresh and Local" using only fresh local produce to produce the finest menus for taste and quality. Many of our ingredients come local Dorset producers and growers at the town's Farmer's Market. The fresh fish is landed on the Dorset coast a few short miles south of the town, giving the opportunity for you to enjoy the finest freshest fish meals you've ever ordered.
Do you own a Dorset Seafood Restaurant?
This domain name is currently available for rent from Dorset Web, so if you own a seafood restaurant in Dorset and would like to build a micro-site or complete website with us using this domain name please contact us.
If you would just like to add your Seafood Restaurant link to this page please contact us with your details, by email: tony@dorsetweb.co.uk or telephone: 01202 259187